Our very latest project during the Covid 19 Pandemic
We won the tender for this project some 8 months ago, a Georgian Town House in Clifton, Bristol.
The house is set out over 4 floors with 12 rooms for us to work our magic.
The existing pine boards were taken up from the kitchen as the owners decided on something a bit more contemporary, we also have a wide variety of reclaimed pine boards in varying widths if a project doesn't allow us to take from another room.
The house has had an extensive re-model carried out over the last year, with new plumbing and electrics. Everyone has their job to do but unfortunately certain trades don't take too much care in cutting boards to reveal what they're looking for.
My pet hate!! cut boards horizontally in a row, we always look to take up these boards and stagger the joints where possible.
Like any old property there will always be some boards that have seen better days, what with big cracks and word worm etc.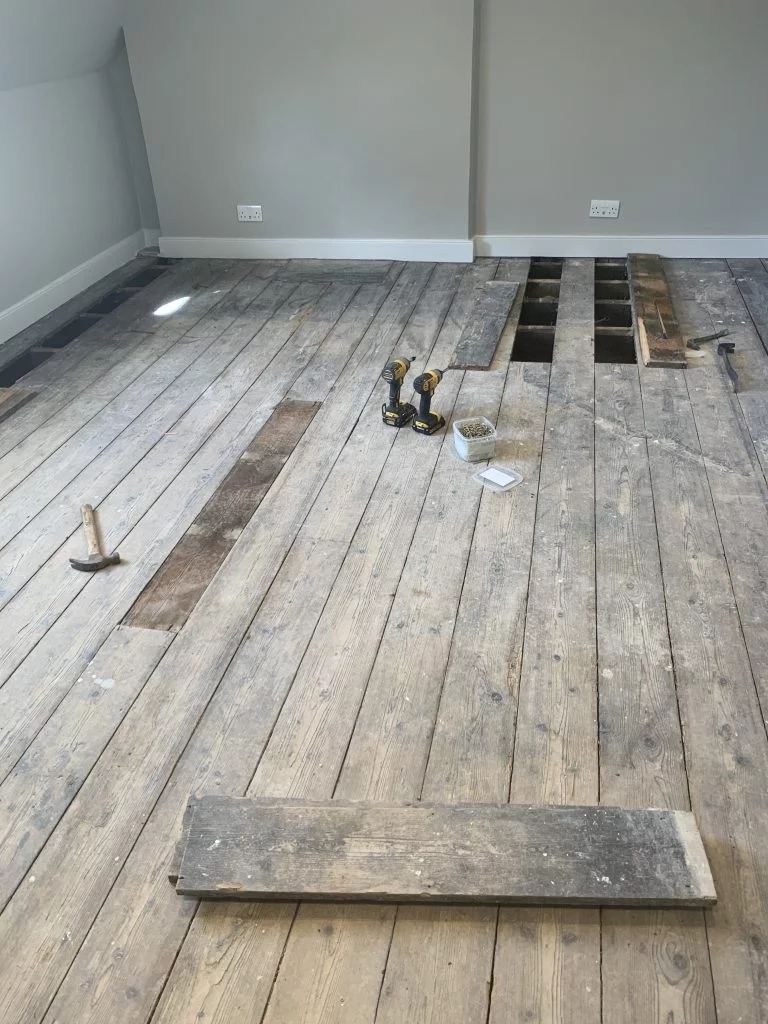 We always speak with the client at length to manage their expectations, that can be from floor board condition, Colour of boards and to see if any colour staining is required along with sheen levels to the finished floor.
Once all repairs are carried out, we set to start the sanding process.
The next step of the process
Finishing the Wooden Floor
On a floor in this condition we would generally start around a 36 Grit sandpaper and move up through the grits, part way through the sanding process we fill joints with either a flexible filler or use slithers of pine, these are glued into place and once dry, sanded level.
The sequence of the wood floor sanding is 36, 40, 60, 80 & 120 grit sandpaper. Once all the sanding is complete and we are happy we have a super smooth finish with no scratches then we proceed to put the first coat of primer down.
We finish the floors with a hard wearing quick drying lacquer in this case, we also can stain the boards to your desired finish, add a White or Grey pigment for that Scandinavian / Nordic look or even a weathered driftwood appearance. The client in this house has gone with a 20% sheen Matt finish but also comes in 10% Ultra matt and a 40% Gloss finish.
What ever finish you are looking for we have most probably already have carried out the work before, we have a vast erray of images we can show you but better still we can carry out a test area on your floor so you get exactly what you expect.